Apollo aiming for Jordan market share
by Admin | October 29, 2015 1:28 am
A
pollo recently opened two Apollo Zone branded retail outlets- in Amman, Jordan. While one of the Apollo Zones was inaugurated by HE Anil Trigunayat, Ambassador of India to Jordan, the other one was inaugurated by Sujay Srivastava, head, Apollo Tyres Middle East and the Proprietor, The Ideal for Import and Export, Wael Qawasmi.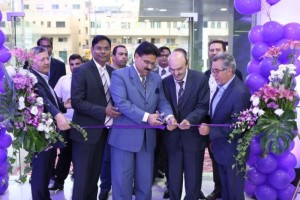 Commenting on the inauguration, Satish Sharma, president, Asia Pacific, Middle East & Africa (APMEA), Apollo Tyres Ltd said: "The growing passenger vehicle segment of Jordan, along with the entire Middle East region, has a lot of potential for us. The 13 year old partnership with The Ideal for Import and Export has enabled us to secure a strong customer acknowledgement for our products. We aim to have a larger mind space with the customers in the 100,000 a month tyre market in Jordan.
The Apollo Zones will help us increase visibility for the Apollo brand, and will endear us further for the consumers, as they experience our world-class products and services."
With the opening of these two Apollo Zones in Jordan, Apollo Tyres now has 5 such branded retail outlets in the Middle East region.
Source URL: http://tyre-dealers-in-dubai.com/apollo-aiming-for-jordan-market-share/
---